Description
Edit
In Romanian: Aluat frantuzesc II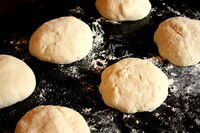 Ingredients
Edit
Directions
Edit
Knead quickly with a wooden spoon and roll into a slightly less than 1 inch thick square.
Place on a floured plate and refrigerate.
Prepare a dough from the remaining 8 oz / 250 g flour, water, lemon juice and salt, kneading well with your hands.
Gather into a ball, cover and let rest for 20 – 30 minutes.
Then roll this second dough into a sheet that is twice as wide and slightly longer than the sheet made from the butter dough.
Press down on the edges.
Sprinkle flour on the pastry board, roll the dough into a ½ inch thick sheet, fold four fold and refrigerate for 30 – 40 minutes.
Repeat this folding-refrigerating procedure three times.
Then roll into a ½ inch thick sheet and cut either into circles or squares.
Put the desired filling (cheese, meat, etc.) in the middle of the dough pieces, wash with egg and bake for 10 – 15 minutes.
Community content is available under
CC-BY-SA
unless otherwise noted.